What to pack for Namibia?
So many exciting adventures are waiting for you.
How are you supposed to know what your Namibia packing list should look like, when there are so many different locations to explore?
There are different landscapes – from deserts to riverine areas. Activities range from walking among the wildlife to luxurious high-tea with giraffes. And even the temperatures vary wildly between rainy and dry seasons as well as day and night.
So that you're prepared for anything and still don't spend a fortune because of excess weight from your luggage, we've put together the ultimate Namibia packing list.
The packing list contains all essential things also considering different seasons in Namibia.
Luggage – Do not forget a Daypack!
In addition to your main suitcase – whether a backpack or hard case – always take a backpack for your hand luggage. This should be well padded and offer you space for all your valuables. We actually always have at least a camera, binoculars, a money bag, and a water bottle with us. If you go on hikes possibly small snacks. Also, on the bumpy slopes, your backpack will ensure that your valuables & electronics are well-protected and packed!
Clothing – comfortable for every weather
Which kind of clothes should you add to your Namibia packing list? Here we go:
T-shirts & tops: Pack at least 6 shirts/tops for 2 weeks. Make sure with the color selection that you have no gaudy, bright tones but rather bright & muted colors, black is also possible but quickly warm. But it does not have to be everything in beige and olive green ;). Just take 1 fancy shirt with you that looks special for photos or that you like to wear in the evening at dinner.
Long sleeves: Pack 1-2 long sleeves, if you are traveling in the dry season from May-October definitely 2-3! Here it gets cold in the evening.
Hoodie/Sweatshirt: Especially for the cold evenings or mornings on the game drive car you definitely want to wrap up a bit and a hood is worth its weight in gold in the cold wind!
Foldable down/outdoor jacket: As mentioned above, it can get frosty in the African winter months, especially in June & July and temperatures can drop below freezing. For this, you should take a light but well-warming Outdorrjacke! During the warm months in December, January, and February you do not necessarily need this, there is rather the combination of hoodie & rain jacket makes sense if it should cool down after a rain shower.
Pants & Shorts: The first rule is comfortable and airy but functional. For hiking it depends on where you are going. Generally, in Namib, for example, a pair of shorts with plenty of sunscreen or airy, longer pants will do. But it is different in the north, here we have a lot of thorn bushes and especially in the rainy season high grass. Don't wear sweatpants or leggings – you can throw them away afterward. If it should be something long, then rather have jeans or firmer outdoor pants!
2-3 pairs of shorts, in which you can also go hiking, are important.
1-2 airy, thin, and loose pants
1 pair of jeans
if necessary sports leggings (for the flight)
Shoes: Good hiking or running shoes for the different conditions in Namibia are important. These will allow you to hike over rocky cliffs, sandy desert trails, and thorny bushes. Still, bring some normal shoes (sneakers or sandals) and don't forget flip-flops.
Swimsuit & Shorts: No matter what time of the year you are traveling, most lodges have pools, and the temperatures during the day are amazing!
Small Things: Bring a Buff, Cappy & Sunglasses! A Buff is amazing as a scarf for cold mornings & evenings. Cappy and Sunglasses prevent you from the harsh sunlight and keep dust out of your eyes.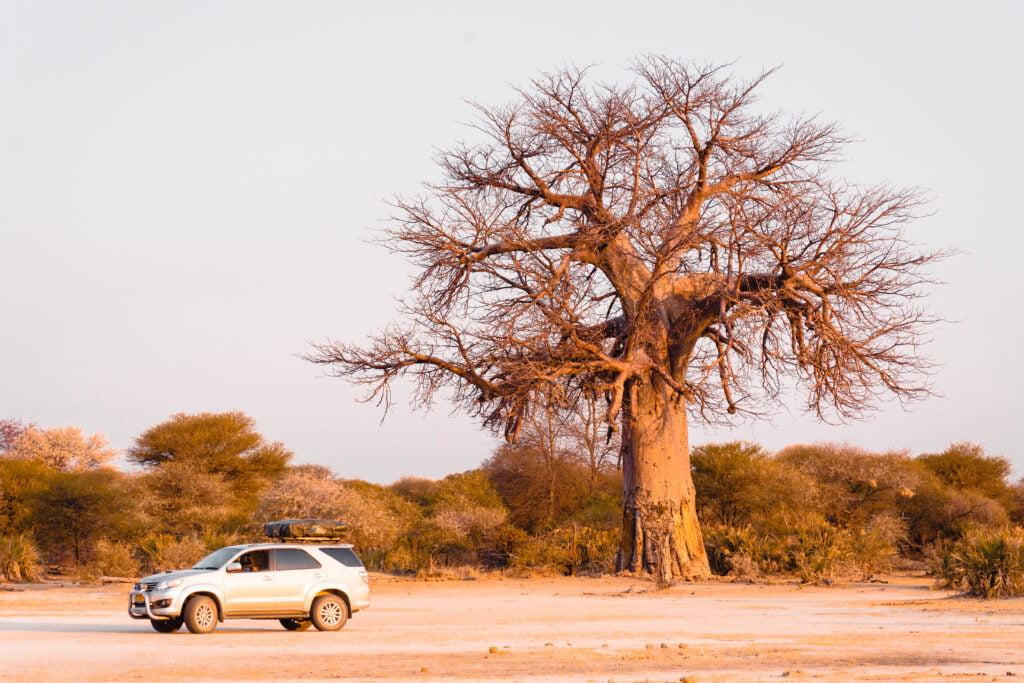 Everything else – camera, water bottle & other stuff
These small essential things should not be missing on the ultimate packing list for Namibia:
Safari essentials: Pack binoculars and a camera, you will not regret it!
Lunchbox & Cuttlery: Bring something to store a sandwich and also camping cutlery. When on the road the whole day this comes very handy and you do not have to use plastic ones from the supermarket.
Water bottle: make sure you stay hydrated as the temperatures can often soar.
Sunscreen: with the high temperatures and exposure to the sun, a high SPF sunscreen is a must to protect your skin. Often it's much more expensive in Africa than buying it in Europe for example, so bring it with you!
Insect repellent: to protect against mosquito and other insect bites while on safari and in other outdoor areas. Often insect repellents should be bought directly at your destination, they usually have the best effects. But there are also some repellents, which are really effective and can be bought in Europe, too.
Medications: Pack any medications you need to take, along with first aid supplies, such as plasters, antibiotics, and anti-malaria medication if this has been recommended. For more information about medication & Malaria have a look at our travel guide or visit CDC for more info.
Cash: Namibia is mostly a cash-based society, so you will need to carry some Namibian dollars if you plan to shop or eat out. But also bring your Visa card 😉
Travel documents: don't forget your passport, travel insurance documentation, and other relevant travel documents.
Entertainment: To keep yourself entertained on long drives or during downtime, consider bringing books, a deck of cards, or a travel-sized board game and a bunch of good music! We love listening to some exciting true crime podcasts 😉
Conclusion
The Namibia packing list contains the most important items for your Namibia journey, still, it is very individual how much you want to bring and what you need. If you feel most comfortable in Boardshorts and a top or want to wear beautiful dresses every evening – that´s totally fine! Just keep in mind it can get dirty and dusty on the road. Make sure to pack some warm clothes for mornings & evenings when you come here between May and October and try to choose clothes that are easy to match and used as different layers. If you visit Namibia during the rainy season (November-April) bring a rain jacket. But anyways, most times you will just need your shorts, a shirt and that is it!
Do you know about the different seasons in Namibia? Check out here