What you have to consider when driving in Namibian National Parks
A Namibia self drive safari is one of the biggest adventures you can experience in a lifetime! We inform you about the most important things when going on a safari in your own vehicle so that you make sure you as well as the animals stay safe and also to ensure you get the best encounters imaginable! Our information counts for most of the parks e.g. Etosha, Bwabwata, and the Mahango Core Area. Usually, you are not allowed to drive on your own in the private game reserves but book a guided tour. If you want to find out more about these places have a look here.
Have you ever imagined how it might be to see a big male lion just a few meters from you in the tall grass or a herd of elephants crossing a street in front of you so that you literally can feel their power? Do you want to see the big 5, the iconic animals roaming freely the African savannah? Then you should not miss out on a self drive safari in Etosha Park and the Caprivi-strip offering amazing wildlife hotspots in Namibia! And you know what? You can drive there completely on your own and spot wildlife without a guide.
Why we love self drive safaris in Namibia:
Being around these fascinating, wild animals is always something special and we both love driving through the National Parks – every day is different and we can learn so much from our surrounding nature. For your Namibia self drive safari, we are providing you with an e-book guide for your trip including facts about the most common animals. There is so much to learn about African wildlife that will leave you speechless. But we also want you to stay safe 😉!
1. How to pay the entry fees & get a permit!
For entering the Namibian National Parks you will have to pay a fee that covers your permit. There are usually different gates, where you can enter the park and there you will pay directly. In Etosha, you get a receipt which has to be paid at the next camp inside the park (no worries you can not miss it). This fee is used to maintain for example fences, water supply, and stuff for the parks. Usually, there are different price categories for international travelers or Namibians/South Africans. It also depends on the type of car you are driving but usually you won´t have a travel-bus 😉!
Here is an example of Etoshas price list (in Namibia-Dollar) – you can see it´s really affordable! You can also find their price list here.
Etosha:
International Travelers: 150,00 NAD per day
Children under 16 years are free
Vehicles up to 10 seats: 50,00 NAD per day
2. Keep an eye on the gates opening & closing hours of National Parks:
Usually the gates open at sunrise and close at sunset! Make sure to ask for the specific time when entering the park – and please stick to it! The gates are closed if you are too late and you might have to pay a fine and sleep inside of the park at your own cost.
If you have accommodation inside the park, you can start a bit earlier and drive around longer but ask directly at your accommodation for exact times!
3. Do not bring these things with you:
Some things are not allowed to take into the Parks. Especially in Etosha they sometimes do have a closer look into your car. Do not take meat and plastic bags with you! You might have to pay a fine otherwise. Regarding drones, they might get sealed at the entrance gate to make sure you will not use them – it is highly prohibited in National Parks due to problems with poaching.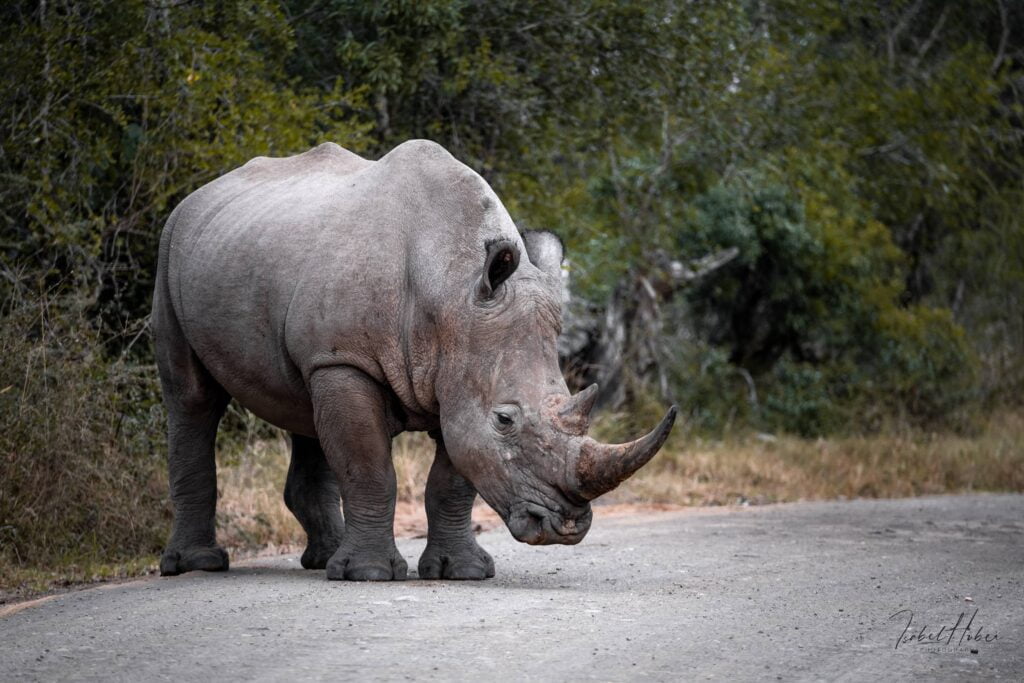 4. What you need to know about road conditions:
Usually, you will drive on gravel roads, which are in good condition but it can get super bumpy as well. I have seen people driving with a VW Polo through the parks but we would not recommend it. For most stretches a SUV with higher clearance is perfect. Some parks, like the Mahango Core Area in Caprivi, have 4×4 routes which you should only attend with such a car and some 4×4 driving experience. Also during the rainy season, we would highly recommend a 4×4 when driving in Namibia.
60km/h is the maximum speed, they sometimes do radar controls. Stick to it, wildlife is often crossing the street or cars park at the side during a wildlife encounter – driving slow is also the best chance to spot animals!
5. Learn how to change a tire!
This point counts ins general when doing a road trip in Namibia! Make sure your car rental company shows you the equipment and how to reach the spare tire. But it would be too dangerous to just get out of the car and change a tire. Either contact one of the closest camps and ask for a game ranger or if possible drive to one of the nearest rest camps!
6. Have an eye on the fuel!
Always make sure your fuel tank is full when driving into the National Parks. In Etosha, you have the chance to fill up at the three camps (Okaukuejo in the west, Halali in the middle, and Namutoni located at the eastern gate). There is nearly a 2 hours drive necessary to reach the next camp. You usually pass these camps when driving through Etosha and might stop here and there for restaurants and toilets anyways. Fill up if your tank has less than 2/3. Sometimes they have no fuel available at the camps as well due to the remote location.
7. Stay inside your car!
Due to safety reasons, do not get out of your car! There are some picnic places where you can get out of the car and no – there are no fences around or just partly. So even when you get out there, scan your surroundings.
8. It´s not a Zoo! But that makes it so much more fun:
National Parks are huge, you may drive there for around 10 hours a day even though it won´t feel like it. Due to the distances, it can happen that you won´t see animals for longer periods – but that is what makes it so exciting! Suddenly you see a tail hanging out of a tree and spot the first leopard!
9. Drive carefully and keep your distance when spotting wildlife!
Animals often cross your way, so drive carefully and keep a distance. You can keep your windows open but have an eye on leopards and lions, don´t stick your arms out of the window too far 😉, it might scare them away. Animals are used to cars so as long as they see you as "one" with the car, they won´t be too scared of you. When an elephant comes your way, park your car on the side to offer space for the animal to walk past. It might be a good idea to turn off your engine especially when it is a bigger herd of elephants.
We will give you a detailed guideline on how to react in specific situations with wildlife in one of our next blog posts and also in the e-book guide when booking with us!
10. Have snacks, drinks & good music/podcasts with you!
Days in National Parks, searching for wildlife can be long, very long, and usually very warm. When you wait 2 hours for the leopard to climb down a tree to spot it better, you might want to have some delicious snacks. Get yourself some sandwiches, chips, fruit or whatever you want. Make sure you have enough water or soft drinks on hand as well! Also, pack water to wash your hands (toilets at picnic places usually do not have a water supply). We would recommend taking at least 2 5l bottles. We sometimes listen to music or podcasts during midday when most animals rest in the shade or hide in the tall grass, where you won´t find them.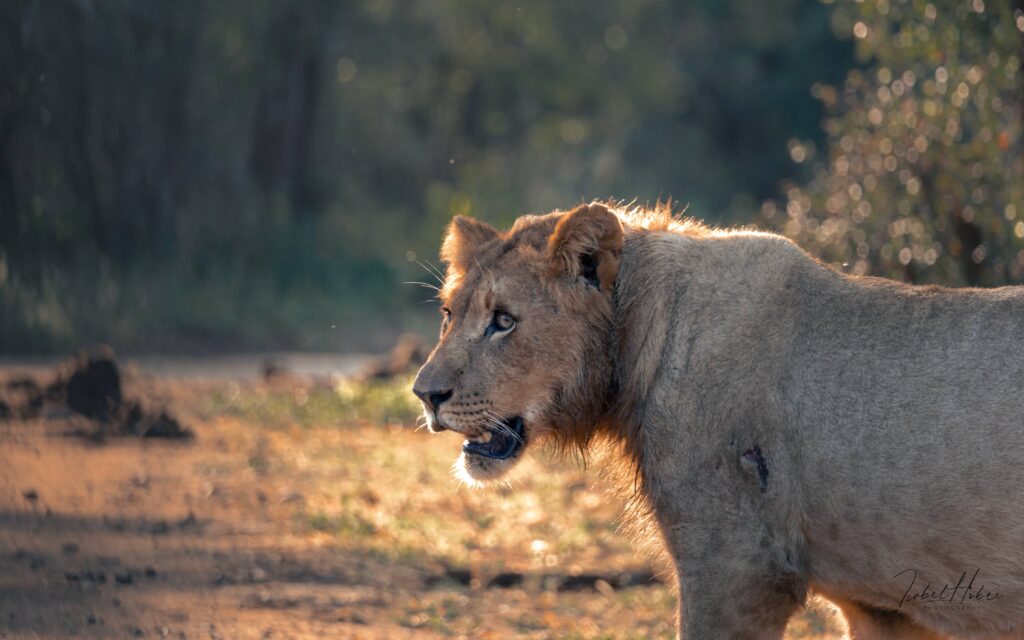 Conclusion:
A self-drive safari is an amazing experience! You can go at your own pace, stop here and there for pictures and it´s so exciting what might be around the next corner. To stay safe we recommend driving not above the speed limit and keeping a distance from animals (especially elephants) although they are usually very relaxed. Have enough water with you and stock up with food & snacks especially when in remote parks like in Caprivi. Etosha offers little shops & restaurants within the park but they are far apart.
Otherwise, just enjoy the experience! We provide you with a free e-book, which gives you a lot of information about the most common animals you will see on your safari! 🙂 Have fun!