Namibia Entry Requirements
What you need to know when traveling to Namibia
Namibia entry requirements: Learn everything you need to know including information about passport & visa, vaccinations and traveling with children to ensure you don't have any problem at the entry point.
Please feel free to reach out to us directly if you have any further questions or need assistance from us.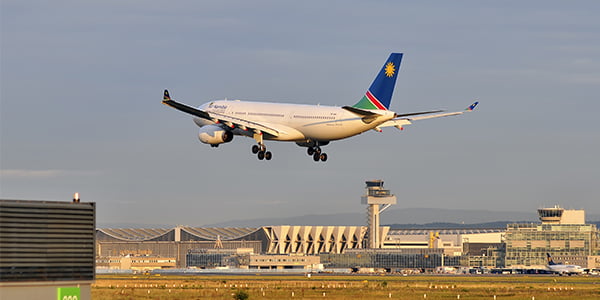 Entry via Hosea Kutako International Airport
Namibia only has one international airport which is the Hosea Kutako International Airport outside of Windhoek where flights from Eurowings Discover, Ethopian Airlines, Qatar Airways, Airlink, FlyNamibia, KLM and other airlines arrive. As of March 2023, Eurowings Discover is the only airline that offers direct flights from Germany to Namibia.
When arriving you will be presented with an Immigration form where you will need to enter the details of your stay as well as contact information of a local contact in the country as well as the address and contact number of accommodation where you are staying.
If you're planning to enter Namibia by car from a neighboring country there are multiple points of entry including Noordoewer, Ariamsvlei, Aroab, Vellloorsdrif, Mata Mata, Klein Menasse and Trans Kalahari. It's important to know that some border posts are not open for 24 hours so you should inform yourself on the opening times of the border post you are planning to enter through.
In the case that you are traveling with a rental car it's important to ensure that you have a permit issued by the rental company.
Your passport needs to be valid for at least 6 months from the date when you plan on leaving Namibia. In addition, there should be at least one full blank page for the entry and exit stamps. Some immigration officials prefer 2 pages so we would recommend to have at least 2 free pages.
Namibia allows citizens from some countries to enter visa free whilst others can enter with a visa issued on arrival. You can refer to Wikipedia's visa policy page to see the the requirements for your country of origin.
Visitors can get a Tourist Visa for a maximum period of 90 days per 180 days for recreational purposes in Namibia. It's possible to apply for a visa extension to extend the duration of the visa with a valid reason, but note that Immigration officials may decline the extension.
The Namibian Government has introduced new regulations for travelers who enter the country with minors under the age of 18 in order to combat the increase in child trafficking's experienced worldwide. The 'United Nations Anti-Human Trafficking Protocol' has urged authorities to introduce strict measures around travelling with minors and in response countries including Namibia, South-Africa and Botswana have implemented additional entry requirements.
The following rules apply when you are entering Namibia with minor(s):
Parents should at all times carry unabridged

(full) birth certificates

of the children, in addition to the children's passport documents.
In the case of any individual travelling with minors that are not their biological children they need to present a

sworn affidavit from the biological parent(s)

which states that the child may travel with the individual. Take note that the affidavit needs to be signed in the presence of

a commissioner of oath

.
The principle above also applies to minors traveling with only 1 parent:

An affidavit

needs to be presented at immigration control which gives permission for the child to travel with the parent.
Should one or both of the biological parents of the child be deceased, a

death certificate

needs to be presented without exception.
Not complying will result in Immigration officials refusing entry into the country
Please take note that Namibian Immigration officials are very strict with the abovementioned regulations and you will be refused entry when not complying with the requirements. We urge visitors to carefully review this information to avoid complications upon entry.
Queries on the above regulations can be forwarded to the Public Relations Office of the Ministry of Home Affairs and Immigration in Namibia: Telephone: 061 292 21 69 ; Mobile Number: +264 81 125 36 74 ; E-mail: [email protected]
No negative COVID-19 PCR test or vaccination certificate is required at all to enter Namibia. Note that you should carry your certificate with you if you plan on visiting other countries during your journey.
A yellow fever vaccination certificate is required for travelers over the age of 9 months if:
You're

arriving from

a country with a high risk of yellow fever transmission
You have spent

12 or more hours of transit

in a country with a high risk of yellow fever transmission.

Refer to the CDC's list of countries with a high risk of infection in Africa and South America.
Please take note that you may be refused entry if you arrive from a high-risk area without being vaccinated so it's very important to ensure that you adhere to the guidelines to avoid an uncomfortable scenario at the airport.
Arriving in the country with foreign currency
Whilst travelers can enter the country with an unspecified amount of foreign currency, it is important to declare foreign currency which is worth more than N$100,000 when entering. Failing to do so is a contravention of the financial intelligence act which will be subject to a fine or imprisonment.
 For comparison, N$100,000 is equivalent to approximately 6200 EUROS, 6500 U$D or 5,500 British Pounds (Please refer to the current exchange rates).
Import and export of local currency (N$)
Individuals may not import or export Namibian Dollars (N$) in the excess of N$50,000.
Exchanging Money in Namibia
When arriving at the Hosea Kutako International Airport you will see multiple exchange bureaus where you can trade EUROS, U$D, British Pounds and other countries for Namibian Dollars. Most bureaus don't charge any transaction fees and visitors can simply present their passport to exchange money.
Summary: Namibia Entry Requirements
Here's an overview of everything that you need to comply with when entering Namibia:
Passports needs to be valid for a minimum of 6 months from the date of departure from the country.
There needs to be at least 1 full blank page in your passport.
Visitors can only enter the country for a maximum of 90 days per every 180 days with a tourist visa.
When traveling with children under 18 years the parents need to present a full unabridged birth certificate. When both biological parents are not present a sworn affidavit from the parent not present needs to be presented which states that the child is allowed to travel. A death certificate needs to be presented for each biological parent which may be deceased.
No negative COVID-19 PCR test result or vaccination is required.
A yellow fever vaccination is required when arriving from a country with a high risk of yellow fever transmission.
Foreign currency in the excess of N$100,000 cash needs to be declared upon entry.
Get all the information that you need including currency, health, safety, currency and much more in our travel guide.
Make the most out of your holidays in Namibia by learning about the best time to travel to the country.