11 essential things you need to know before driving in Namibia!
Namibia is the perfect country for a self-drive trip! Get your car, head out to the open spaces and mindblowing landscapes and let the african wind blow through your hair!
Still, there are some things to make your trip easy & safe so that you can totally enjoy the experience.
1: Driving on the Left!
If you arrive from a country where you normally drive on the right side, the first few kilometers will certainly take some time for getting used to driving. In Namibia, as in South Africa, you drive on the left side of the road and therefore the steering wheel is on the right side of the car. Overtaking is also done on the right side.
But don't worry, you will definitely get used to it! I haven't met anyone yet who had problems with it for a long time.
Just remember: You always sit in the middle of the lane. That makes turning easier.
Of course, you can also look for a rental car with automatic transmission, so you avoid shifting with the "wrong" hand. 😉
When driving in Namibia you also have the huge advantage that there is not much traffic on the roads. Only in the larger cities like Windhoek and Swakopmund, it gets a little more crowded, especially at the end of the day, but even that is usually not comparable to a major European city, for example.
2: Get the right car for your trip!
When choosing your rental car, the first question usually is: Do I need a 4×4 or is a normal 2-wheel car enough? I would answer: It depends on where you go and when!
So usually a 2×4 car is enough BUT you should go for a SUV so that you have a bit more space between yourself and the road. This might be essential when driving on gravel roads like in Etosha for example. Usually, the roads are in good condition but the bumpy stretches are a lot more comfortable and easier to drive when your car is a bit higher than a usual one!
Nonetheless, you should consider getting a 4×4.
First: It´s a lot more comfortable and you are more flexible about what you are going to see. Let me give you some examples. Along the Skeleton Coast, you can drive to several shipwrecks but therefore you have to leave the main road and drive along the coast. Here you definitely need a 4×4 and even then you should be experienced in driving that thing ;). You will get some tips for 4×4 driving, so no worries. The same counts for some roads within the deserts of Namibia as well as for the Caprivi strip. Some roads are only accessible with 4×4. And Second, it's so much more fun and comfortable when you don´t have to worry to get stuck.
3: Watch out – animals & people on the road
On your road trip, you will often drive past small villages, where natives usually keep their animals grazing along the roads. Watch out for goats, sheep, cows, and donkeys. Especially in the more remote areas it can happen that a group of cows is just relaxing on the road – so don´t speed.
When a forthcoming car is flashing, this often means you should be careful because of something or someone on the road or a radar control.
Especially at night, it can be a high-risk driving, because then not only livestock is crossing the roads but also wildlife becomes more active. When driving through villages, be careful and have an eye on children or people walking beside the roads.
4: How to fill up – and always do if you have the chance!
In Namibia, you don´t have to fill up your car on your own. Therefore we have gas station attendants.
When driving towards a gas station, an employee will show you the gas pump where you should go. Just let him know how much money or how many liters you would like to fill up. They will usually also clean your car windows. Due to the road conditions, we recommend letting them check your tire pressure as well. At some stations you can pay directly by card machine with the attendant, otherwise, just walk inside the gas station to pay. They will let you know – and we usually leave a small amount of tip.
The ways in Namibia are long and it can take several hundred kilometers until you reach the next gas station. And sometimes (not usually) it can happen that they ran out of fuel. This can happen for example when driving in Etosha where all the camps have gas stations but due to their remote location, it can take some time until the next truck gets there.
So we recommend always filling up if you have the chance, just to make sure.
5: Road Conditions – What do the different Letters mean?
When driving in Namibia you will notice that the roads are marked by different letters.
There are types A, B, C, and D. But what does it mean?
A: The letter you will find the least is "A". This is due to the fact that there are only 74km of this road type. Between Windhoek and Okahandja the road is tarred and has a double lane in each direction, like a usual highway or "Autobahn". Still, the maximum speed is 120km/h.
B: This road type describes tarred roads, which are usually in really good condition and connect the bigger cities or main routes through the country. They can be compared with American secondary highways or "Landstraßen" in Germany. Here your maximum speed is usually 120km/h outside of towns.
C & D: These are gravel roads and NOT tarred. That means the maximum speed is 80km/h and you should stick to it. They are often in good condition and can be driven with a 2×2. Also along the coast, you will find salt roads which can seem like tarred roads but do not mistake them, they will still have potholes here and there. The braking distance is also extended, so please keep a distance.
In general, should always watch out for potholes or suddenly ending gravel roads that turn into sand roads. Also if a car is in front of you or forthcoming, slow down! They will have a large dust cloud behind them and I promise you, you will see nothing for some seconds! Often accidents happen because tourists underestimate these things.
If you are not sure whether the road is in good condition or not, ask about your accommodation! They know best, what the road looks like or where you should be careful ;).
In towns, the speed limit is 60km/h.
6: Download offline maps and ask for advice!
You are visiting the second least populated country in the world and that means – most times you will have zero signal! So make sure you have a good map or just download a map online (for example from Google Maps). Thereby you can also safe spots where you want to make a stop and save them offline!
Also, ask at your accommodation for advice on which road you should take – thereby you can find the most scenic routes or prevent getting stuck somewhere.
7: Know your limits – driving safely on gravel roads!
Like said before the key is slowing down! It's your holiday so don´t rush and enjoy the view.
Even though gravel roads might seem fine at first view, often they suddenly turn into pothole nightmares and after rainfall have deep, water-filled holes you don´t even see. They usually connect smaller villages and that means livestock and people on or beside the road.
So in general it´s safe driving in Namibia as long as you stick to some rules and keep in mind that it´s not like driving a tarred road.
8: Deflate your tires when driving on gravel roads for longer & learn how to change a tire!
Before driving on a gravel road for a long time for example when driving to Sossusvlei or a day trip in Etosha, make sure you deflate your tires. Ask your car rental company for advice – it differs between car types. Thereby you make sure that the tires have more grip on the road and if a stone stands ou (which is often the case) it won´t disassemble your tire immediately.
But yes, it also happened to us, and not only once. Your car feels a bit wired when turning, a strange sound in the back and then you know – you lost that tire.
Make sure you have all the gear and your car rental company showed you where and how you get it. We would also recommend downloading a video on how to change a tire if you are not used to it.
Namibians are totally used to this and if you need help, I´m sure there will be someone willing to help you out.
9: Do not underestimate the distances!
Speaking about road conditions you might already have a feeling – driving in Namibia for 200km is a bit different than on a European Highway. Especially when using C & D roads (which often provide you with a nice view), it will be hard to estimate how long your drive will take. There will be stretches on some roads where you will have to slow down and drive 40km/h and then there will be parts where it´s perfectly fine to drive 80km/h. So take your time and plan with a little more time.
10: Avoid driving in Namibia at night – but don´t panic if you have to!
Visibility is poor, it is a lot darker than our roads in Europe and there is much more activity going on.
Livestock, wildlife, and people. Maybe the goats like to sleep on the warmed-up streets during the night. Oryx, Kudu, and other antelopes cross the streets. People walking home in remote areas usually don´t have a flashlight. This is totally normal when driving in Namibia after dawn and during the night, therefore you should really be careful.
You do not have to panic if you set off too late one day and have to drive in the dark to reach your accommodation but you should try to avoid it. If it happens just make sure to drive slowly, keep your car locked, and have an eye on your surroundings!
11: Essential rules for driving safely & avoiding a chat with the police!
Keep your lights on at all times also during the day! It´s prescribed by law when driving in Namibia
Don´t speed – there are regular speed controls by traffic police – and it´s safer as well especially on gravel roads!
Have your driver's & international driver's license on hand at all times
Do not pick up hitchhikers – usually they just want to go from A-B but there have been cases of car-jackings
Do not stop for stalled cars beside the road – especially when it does not seem like a rented car from tourists!
Do not leave valuables visible in the car when it's unattended. Take cameras, phones, and wallets always with you when leaving the car – even if there is a park guard
Avoid driving through townships – check maps beforehand
Have your doors locked while driving – this counts especially for urban areas during rush-hour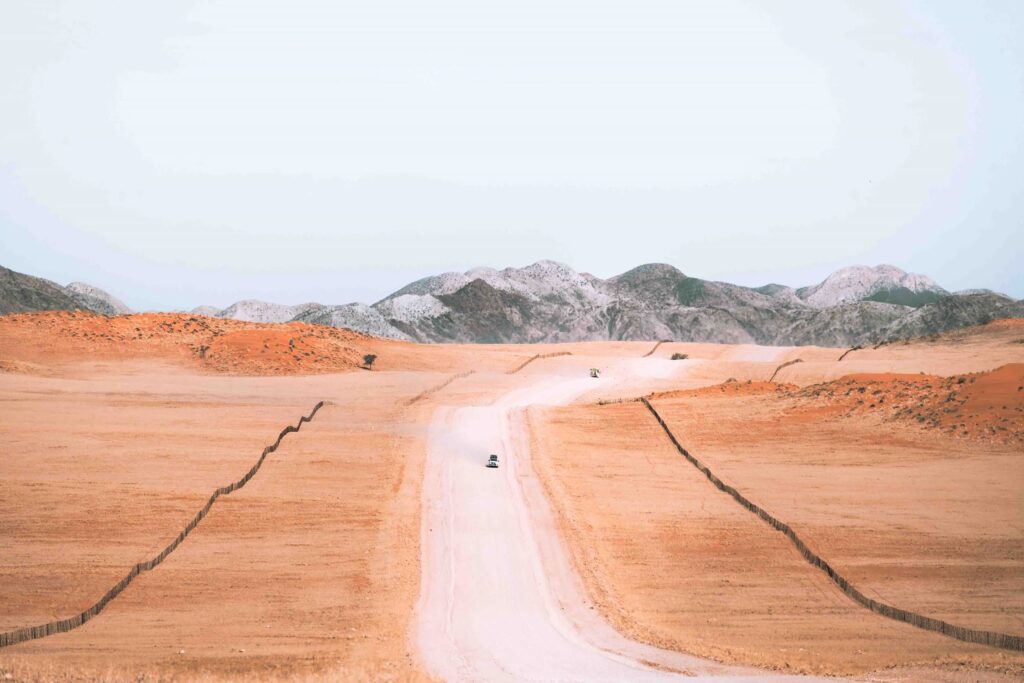 Conclusion
Road trips in Namibia are the best way to explore the country, see the fascinating landscape and enjoy your holidays at your own pace. Driving here is safe and easy as long as you take the mentioned points into consideration. Most tourists here drive on their own and are perfectly fine, just get used to the streets, download offline maps, and have an eye out for wildlife and people on the road. To stay safe, lock your doors, switch the lights on at all times (that's a rule by law), and do not show off your valuables in the car especially when leaving it unattended.
Find stunning places in Namibia that you can drive to! Click here for our favorite destinations